Functional Canine Enrichment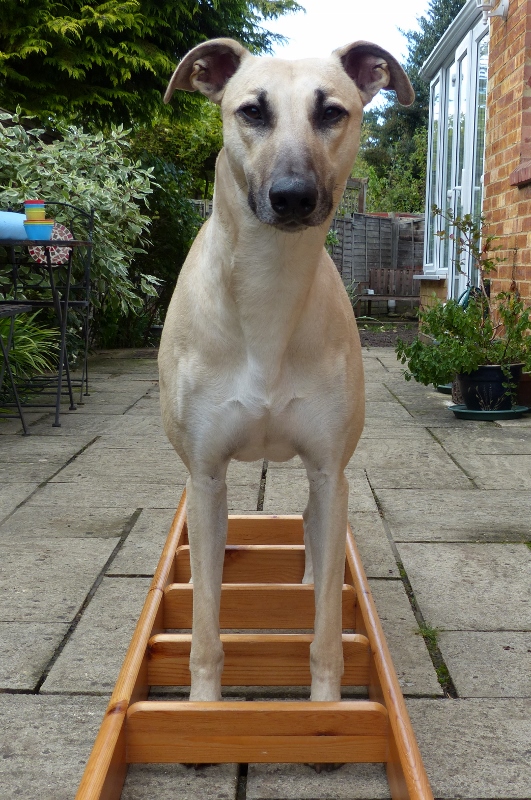 Enrichment is often associated with fun games or food stuffed toys which we use to keep our dogs occupied and mentally stimulated when we might have limited time to spend with them. However enrichment can also be functional i.e. have a specific purpose. Functional Canine Enrichment uses movement exercises, posture training, body work and scent games to achieve calmness and wellbeing. By stimulating the parasympathetic nervous system we can aid hyperactive dogs to settle, nervous dogs to be more confident or reactive dogs to choose a different response. Functional Canine Enrichment won't arouse your dog but will tire him/her out; besides it is also fun and a great way to bond.
Not only can you calm the chaos but help your dog be more body aware by working with the proprioceptive system. This in itself can have great benefits by keeping him/her flexible and maintaining the body as well as aiding mental and emotional balance.
Functional Canine Enrichment is useful for any dog with or without behavioural problems. It is particularly beneficial for:
Hyperactive or restless dogs, to tire him/her out in a manner that doesn't promote adrenaline production
Reactive dogs, to help him/her be more successful in fearful or arousing situations
Shy dogs, to promote confidence
Older dogs, to maintain flexibility and give gentle exercise and mental stimulation
Young puppies, in their critical socialisation period and the transition into their new home
Adolescent dogs, to promote impulse control and body awareness
Dogs who don't travel well in the car
Preparation for veterinary examination or procedures
Working breeds that need more stimulation than some other breeds or need to be on the move
Intelligent dogs who get bored very easily and turn self-employed causing problems in the home and on walks
Dogs who need to improve muscle tone or need to stretch after exercise or injury
Dogs on limited exercise
Dogs who need to keep physically fit and need to improve body awareness and agility
Fearful or anxious dogs – noise sensitivity, separation anxiety, handling issues like fear of grooming, nail clipping, hand shyness or body defensiveness etc.
Dogs that pull on the leash to teach balance
Performance issues, for competing dogs who lack concentration, focus or body awareness
Discounted packages available for block bookings see
here
for info.
To book email Toni at
[email protected]
or phone 07747 862614